Data Science Training Core (DSTC) Training Resources
AIM-AHEAD Data Science Training Core (DSTC) Training Resources
DSTC Purpose
The Data Science Training Core (DSTC) will identify training needs and gaps as well as identify or develop training and workforce development resources to support AI/ML and health disparities research. The DSTC will assess training requests for AIM-AHEAD participants and connect requestors with required training and training support via the Help Desk. 
DSTC Training Pathways
The DSTC offers training to a variety of audiences including Beginner, Students & Workers, Early Career Professionals, and Practitioners.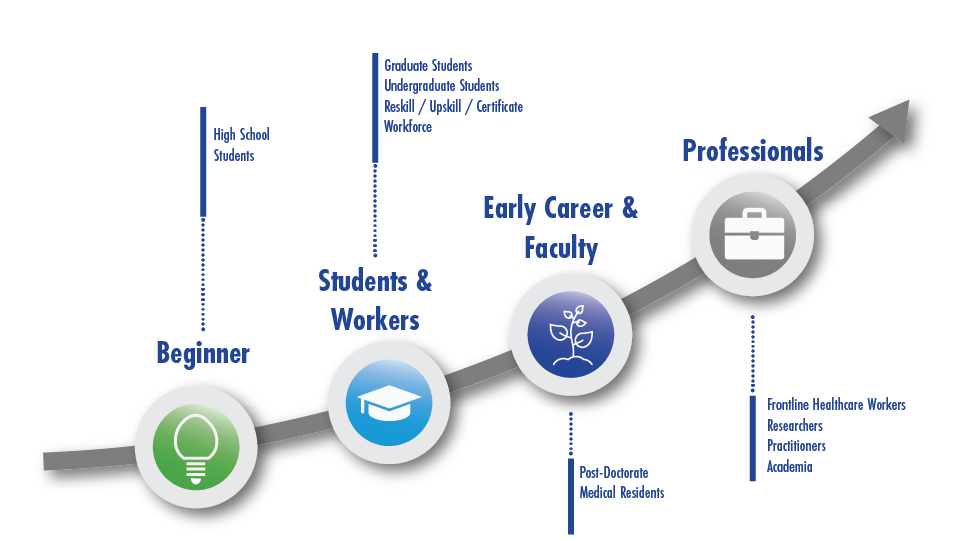 Courses
The DSTC offers a variety of courses available to AIM-AHEAD Connect members. Unlock your full potential as an AIM-AHEAD Connect member with the comprehensive course offerings from the DSTC. Our carefully curated selection of courses is designed to equip you with the knowledge and skills you need to excel in the field of AI/ML. Whether you're a beginner looking to dive into the fundamentals or an experienced practitioner seeking to expand your expertise, we have courses tailored to meet your specific needs. From introductory AI concepts to advanced machine learning techniques, our instructors, who are industry veterans, will guide you every step of the way.
---
Recorded Content From AIM-AHEAD DSTC Programs
---
The DSTC takes great pride in hosting the annual AI for Health Equity Symposium (AIHES), an esteemed event that has generated a wealth of invaluable content centered around AI and ML applications and Health Equity. Hear from visionary leaders in the field to discuss the challenges, solutions, and opportunities that lie ahead. Through engaging presentations, panel discussions, workshops, and interactive sessions, participants gain deep understanding of the intersection between AI/ML and health equity. Explore cutting-edge methodologies, discover novel approaches, and learn from the pioneers shaping the future of healthcare.
DSTC Signature Training Programs
---
The DSTC is committed to nurturing the next generation of thought leaders in the fields of AI/ML and health equity. Through our signature training programs, we provide a platform for aspiring individuals to develop their skills and make a lasting impact. As programs open up for enrollment, we will post that information here.
While we eagerly await these opportunities, allow us to give you a glimpse of our past programs:
Outreach
DSTC Bridge Fellows
On-Demand AI/ML Q&A Support
---
Introducing the DSTC, your ultimate companion on your AIM-AHEAD award journey. We are here to address all your queries and provide valuable guidance. Whether you need assistance with AI/ML research applications or seek to overcome obstacles in your project, our dedicated team is just a click away. Navigating the complexities of your AIM-AHEAD project has never been easier. Trust our experts to lend a helping hand, unravel intricacies, and ensure your success. We understand the importance of bouncing ideas off a knowledgeable team, and that's precisely what we offer. Rely on our wealth of experience and profound understanding of AI/ML to take your project to new heights. Don't waste valuable time searching for solutions elsewhere. Join the growing community of satisfied AIM-AHEAD awardees who have turned to the DSTC for unrivaled support. Let us be your trusted partner on this transformative journey. Reach out with your questions via the DSTC help desk using the button below!