Artificial Intelligence/Machine Learning Consortium
to Advance Health Equity and Researcher Diversity
AI for Health Equity Symposium 2023
What? AIM-AHEAD Consortium is hosting the AI for Health Equity 2023 Virtual Symposium (AIHES2023), a national NIH-funded event featuring a conference and workshop series.
Cost? $0 – this conference is completely free of cost.
Where? 100% Virtual; Follow the #AIHES2023 and #AIM_AHEAD hashtags!
When?
2-Day Virtual Conference: June 28th and 29th from 10:00 am - 5 pm Central Time.
4 Week Workshop Series: Starting the first week of July!
Who? Students (highschool/undergraduate/graduate), community members, HBCUs, MSIs, and professionals including academia, industry, community organizations, and beyond.
How? 2-day virtual conference showcasing keynote speakers and subject matter experts in AI/ML health equity applications and 4-weeks of exciting workshops led by professionals from academia and industry.
Why? This symposium is intended to raise awareness of AI development, applications, and use cases while sowing the seed for a future generation of AI professionals. We seek to further stimulate conversation on potential AI challenges, opportunities, and solutions.
We strongly encourage participation from individuals and institutions who belong and serve underrepresented groups. It is critical the discussion includes a diversity of voices, experiences, and perspectives.
COST: $0
Register Below
About AIM-AHEAD
The AIM-AHEAD coordinating center was established to enhance diversity in the field of artificial intelligence and machine learning (AI/ML), with emphasis on reducing health disparities and promoting health equity. We hope to achieve this by engaging in a fair, equitable, and transparent process of building a consortium of AI/ML to promote health equity and an inclusive and diverse workforce. Many communities have untapped potential to contribute new expertise, data, recruitment strategies, and cutting-edge science to the AI/ML field. AIM-AHEAD Coordinating Center seeks to increase participation and engagement through mutually beneficial partnerships, stakeholder engagement, and outreach to advance health equity.
Additional Information
Sessions will include exciting talks from speakers, round table discussions, and panels to address topics in AI and Health Equity. Please join us as we spark a discussion with stakeholders from industry, academia, Historically Black Colleges and Universities (HBCUs), Minority Serving Institutions (MSIs), community stakeholders, healthcare providers & systems, the public, and MORE!
Topics
Community Engagement in AI/ML: Challenges, opportunities, and solutions in AI/ML and health equity
Ethics in AI/ML
Detecting Bias in Data
Use Cases
Sources of Health Equity Data
AIM-AHEAD: panel from our AIM-AHEAD participants where they discuss their experiences
AIM-AHEAD current and upcoming opportunities
Schedule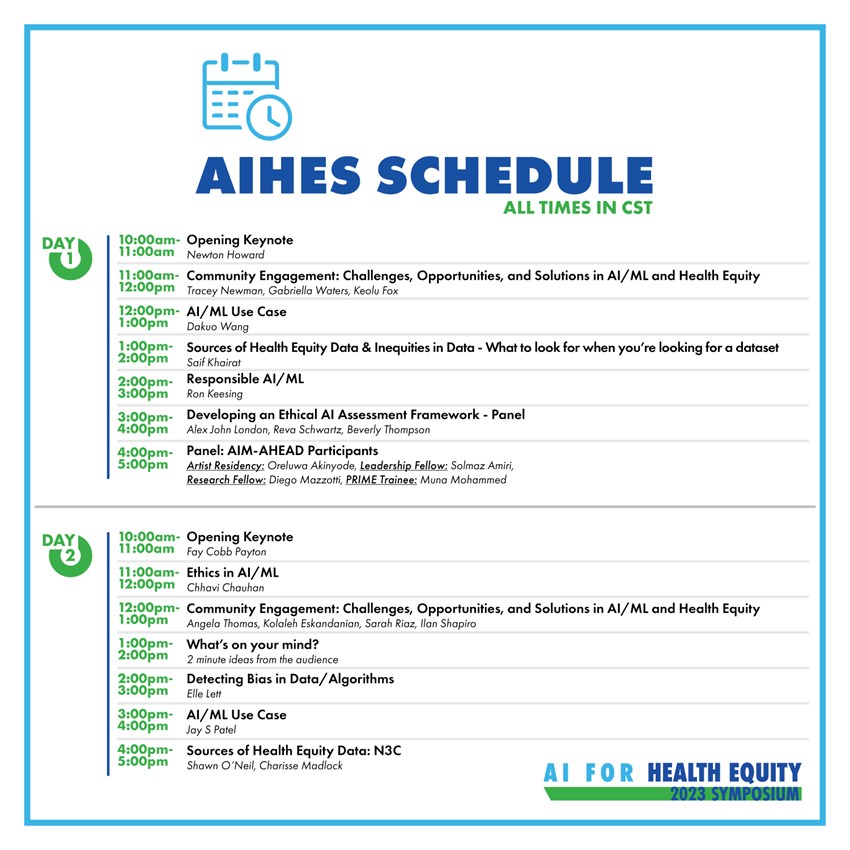 Links
For questions or if you or your company is interested in getting involved in this exciting event, please contact the AIHES 2023 conference coordinator Sara Stienecker (Sara.L.Stienecker@medstar.net).